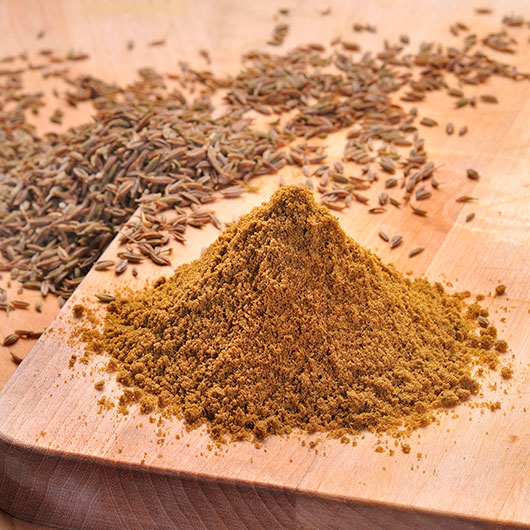 The spice of warm climates, cumin was originally a type of herb that grew in the Nile Valley of Egypt. In time, it has been widely cultivated in North Africa, China and the warm geography of North and South America. It is extracted from the seeds of a small plant with umbrella-shaped flowers. It can be offered in elliptic, dried, green-brown seeds or grinded.
Cumin is one of the most commonly used spices, especially in cuisines that enjoy spicy meals. It has a significant place in Indian, Eastern, Middle Eastern and Mexican cuisines, where it is commonly used, as well as Portuguese and Spanish cuisines in Europe. It is also one of the main ingredients of many curries and spice mixes. Cumin is one of the most ideal spices for grilled dishes and casseroles, particularly for meals prepared with lamb and chicken. It also deliciously compliments fish and bulgur (cracked wheat).
Taste notes:
Smell of cumin is intense and heavy. It has a bittersweet, somewhat acrid and sharp taste. Its aroma is strong and earthy, offering a warm depth.
Harmony:
Aside from grilled beef and chicken, it adds a special touch to meatball and an exclusive taste to meat-free stews. It is a must for cracked wheat dishes, such as kısır (bulgur salad), mercimek köftesi (lentil balls), çiğ köfte (steak tartar a la turca) and falafel. It creates a unique harmony with vegetables such as cabbage and cauliflower. Cumin blends well with legumes like lentil and beans. Moreover, its digestive quality makes it essential for meals prepared with legumes.
Tips:
Fresh cumin will preserve its aroma in airtight, glass jars for months. As the aroma of ground cumin will fade quickly, its shelf life is shorter. Buying it in small quantities and consuming it immediately is advisable.
If fresh cumin is fried lightly in a pan without any cooking oil before being grinded, its aroma will be more pronounced. You can easily grind the fried cumin at your home by using a mortar or a spice mill.
Good idea:
By adding whole cumin to your rice pilaf, cooked with steam or in a pot with vegetable oil, you can prepare a delicious pilaf. In fact, if you opt for jasmine rice for your pilaf, you will be enriching the aromas that flutter on your palate. A similar pilaf, prepared with fine cracked wheat and whole cumin with its unique flavor will be a great side dish to serve with meat.
When making pickled cabbage, try adding a bit of whole cumin along with whole coriander. You will see that your pickles will be different than the usual and have a more pleasant aroma.
You can also give flavor to steamed vegetables such as broccoli, cauliflower and Brussels sprouts by preparing a light dip with yoghurt, mayonnaise, cumin, salt and black pepper.