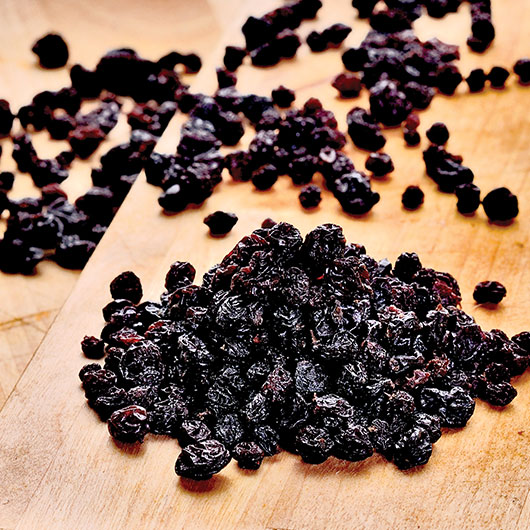 Black currant is a type of grape, which has juicy, tiny, thick-skinned fruits and grows in bunches. It is one of the oldest types of grapes and its origin dates back to 3000 years ago. It has been used with gastronomic purposes since the old times. Besides its biggest producer Greece, black currant is cultivated in California, South Africa and Australia, too.
Fresh black currants are not consumed very much. It is mostly used in savory and sweet dishes after being naturally dried under the sun.
In Turkish cuisine, it is an indispensible ingredient for stuffed vegetables in olive oil and rice with onions, spices and nuts. It is also an important flavoring ingredient for traditional desserts zerde (saffron and rice dessert) and aşure (Noah's pudding). Besides these traditional dishes, dried black currants are widely used in pastries such as cakes, breads, cookies, and buns throughout the world.
Taste notes:
Even though at first look black currants resemble other grapes, it has a much lighter taste. It holds notes of liquorice in the background.
Harmony:
Besides stuffed vegetables in olive oil and rice with onions, spices and nuts, it blends well with bread, buns, cakes, salads, sauces, ice cream and roasted lamb.
Tips:
Keep your dried black currants in an airtight jar with a tight lid in your spice shelf or refrigerator. In this way, you can preserve their aroma and texture for 6-12 months. You can extend their shelf life by freezing them in small plastic bags.
Good idea:
You can flavor the muesli, which you consume with milk or yoghurt in the morning, with some dried black currants to bring it a richer taste.
If you like spicy and sweet notes with lamb, add a pinch of cinnamon, clove and some black currants in your meal. You will have an outstanding dish to serve together with rice pilaf.
Black currants are ideal for adding sweet notes to the salads. Use it especially in green salads, which you prepare with lettuce, rocket, mint and cress leaves. You can accentuate the sweetness by adding a bit of honey to your dressing. Mix some vinegar or lemon juice with mustard, olive oil, honey and a pinch of salt. It will make a delicious dressing for your salad. Pour it over the green leaves and enjoy it.