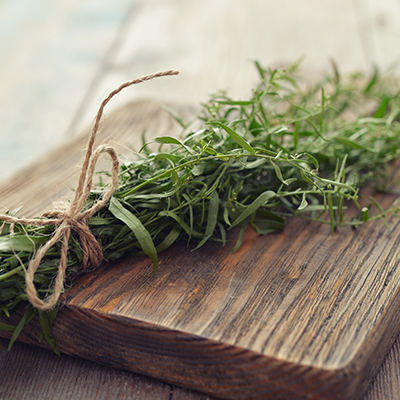 A plant locally grown in Siberia and West Anatolia, tarragon later became known in Europe, after Arabs took it with them to Spain. Especially French chefs embraced this spice and integrated it into the French cuisine. Since then, it has been one of the essential spices of French meals. Adopted by the French, the highest quality of this herb with its unique smell is today called French tarragon.
Tarragon is not a widely used spice in Turkey however, it is a special ingredient and an extraordinary spice that needs to be discovered and embraced by the gourmands.
Taste notes:
With notes of aniseed, basil, licorice and pine, its leaves have a sweet taste. Its aroma fades after a long process of cooking but its flavor remains.
Harmony:
Tarragon is very compatible with fish, chicken and eggs. Do not forget to add one or two branches of fresh tarragon or one or two teaspoons of dried tarragon, when making roasted, grilled and braised fish or chicken meals. It works well with red meat and venison marinates. When a pinch of tarragon is added to green salads, it adds a pleasant nuance. It also blends well with mushrooms, artichokes and vegetables. Tarragon greatly compliments fragrant summer tomatoes. After pouring a bit of olive oil over chopped tomatoes, you can serve it by sprinkling a bit of dried tarragon.
Tips:
Shelf life of tarragon is short. You can keep it in small packages up to 4-5 days in the fridge. If you want to consume it fresh, it is better to grow it in a pot in your own home. Of your can purchase dried tarragon and use it for a longer period. In order to preserve the aroma of dried tarragon longer, remember to keep it in airtight jars with a tight lid away from the light and the heat.
If you prefer to use tarragon in braised meals, add this herb to your meals right before you remove it from the stove. This way you can benefit from its aroma as much as possible.
Good idea:
By preparing a different salad sauce with tarragon, you can create a special and pleasant taste experience. For this, put 2 tablespoons of high quality apple cider vinegar, 6 tablespoons of extra virgin olive oil, a teaspoon of dried tarragon, half a teaspoon of salt and a pinch of black pepper in a bowl. Mix these ingredients with a blender until you get a consistent sauce. You can flavor and enjoy your salad with this sauce.
When tarragon, cheese and olive oil are used together, they produce a pleasant taste. Try putting some sliced goat cheese or Ezine cheese according to your preference on a plate and sprinkle a full pinch of tarragon on it. Afterwards add plenty of extra virgin olive oil on it. You combine this delicious appetizer with toasted bread and serve it for breakfast, lunch and dinner.
You can keep an aromatic butter prepared with tarragon in your fridge and use this butter to flavor meat and vegetable meals. For this, keep 250 grams of butter at room temperature. Then get a bowl and put in a tablespoon of dried tarragon and a teaspoon of salt. Mix these ingredients until they're homogenous and then make it into a roll with a stretch wrap. After cooling it in the fridge, you can use this butter by slicing it. You can flavor grilled red meat, chicken or fish with it. Or you can create a lovely taste by pouring some tarragon butter on roasted or steamed vegetables such as artichokes, asparagus and squash when they're still warm.