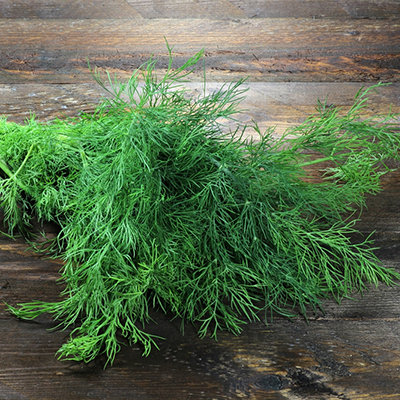 Dill is a local plant native to Southern Russia, Western Asia and the Eastern Mediterranean. Although mostly planted for the leaves, its seeds are widely used as well. The seeds have a more pungent aroma compared to the leaves.
Feathery leaves of dill look almost the same as the leaves of fennel. But aromatically they offer different properties. The leaves can be consumed both fresh and dried. Dill leaves are dried in a couple of days on a cloth in a dark, warm and ventilated place. They are then collected and crumbled into small pieces to be used as a spice.
Taste notes:
It leaves a clean and delicate aroma on the palate with notes of anise and lemon. Its taste reminds a bit of anise and parsley.
Harmony:
It brings a unique aroma to seafood dishes. You can add dill leaves to fish cooked in the oven or on the grill as well as fish soup, sautéed sea fruits or seafood pasta.
It goes very well with pilaf, fava in olive oil, artichoke and zucchini. It is a nice flavoring spice for root vegetables, cabbage and cauliflower.
Its seeds and leaves can both be used for flavoring pickles. It is also one of the best ingredients for savory cookies and cakes.
Tips:
The shelf life of fresh dill is not very long. You can store them in sealed plastic bags in the refrigerator for up to 2-3 days. Dried dill on the other hand, can be stored in air-tight glass containers for about a year.
Exposed to excessive heat, dill easily loses its aroma. To preserve its flavor at the highest level, it would be better to add fresh or dried dill in the meal just before turning off the stove.
Good idea:
Even though tzatziki is mostly made with mint, the version with dill is worth giving a try. When you add finely chopped cucumbers in the yoghurt, add 2 teaspoons of dried dill for each portion. Mix it well and drizzle a little bit of olive oil on top of it before serving.
Dill is one of the best flavoring agents for pastries. Especially when combined with cheese and black olives, it results in very delicious savory pastries.
You can prepare a tasty sauce with dill and yoghurt to serve with roasted beetroot. Add 4 teaspoons of dried dill, one teaspoon of mustard powder and a pinch of salt into a bowl of yoghurt. Mix it well and spread over roasted beetroot slices before serving.
Cook a delicious and rich pilaf with fresh fava beans, peas, artichoke and rice. Take it off the stove and add a generous amount of chopped or dried dill. Mix it well. Let it rest about 20 minutes before serving.
For a flavorful sauce to be served with fish, mix 4 tablespoons of light mayonnaise with one tablespoon of mustard, 2 teaspoons of lemon juice, 4 teaspoons of dried dill and one tablespoon of chopped capers.