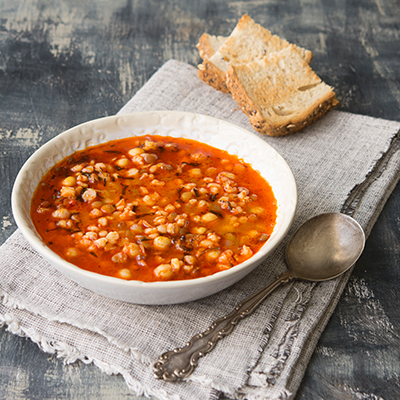 6 servings
1 cup boiled barley
½ cup boiled chick peas
½ cup boiled green lentils
1 medium onion, chopped fine
1,5 lt water
1 tablespoon tomato paste
1 tablespoon pepper paste
1 teaspoon Green Life Ground Black Pepper
Olive oil
Salt
For Sauce
1 tablespoon Green Life Tarragon
Olive oil
In a pot heat up 2 tablespoons of olive oil and cook while stirring for one minute. Add the water, barley, chick peas and lentils and stir. Cook to a boil on medium heat.
In a small pot heat 2 tablespoons of olive oil and add the pastes. Mix and fry then add to the soup and leave the soup to boil for a few minutes. In a pan heat 4-5 tablespoon olive oil and add tarragon. Remove from the stove and pour into the soup while stirring. Serve your soup while hot.