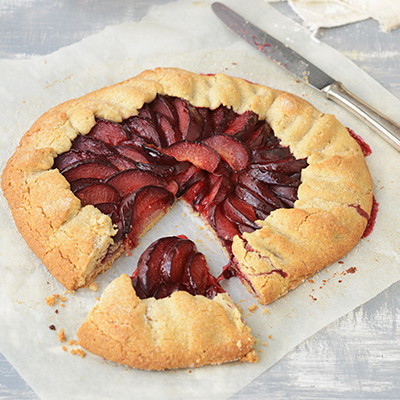 6 servings
For the Dough
120 gr flour
70 gr walnuts, chopped
50 ml oil
30 ml milk
Salt
For the Filling
8 red plumbs, sliced
1 tablespoon brown sugar
1 tablespoon honey
1 teaspoon Green Life Ground Cinnamon
For the Topping
1 tablespoon granulated sugar
Preheat your oven to 180°C. For the dough; mix the flour, walnut, granulated sugar and a pinch of salt in a food processor until it is a fine powder. Add oil and milk and turn the processor on again to combine the ingredients. Put the dough on the counter and gather into a ball. Place the dough between sheets of wax paper and roll out with a rolling pin to get a 30cm diameter circle. Remove the paper on top and place the dough on a pan with the paper it is on.

Mix the plumbs with brown sugar and Green Life Ground Cinnamon in a bowl. Place the plumbs in the middle of the dough leaving a 3 finger gap from the edges. Overlap the edges and pinch together. Sprinkle granulated sugar on the edges of the dough and put in the oven. Bake in a 180 degree oven for 35 minutes and remove. After it has cooled, slice and serve the tart.