Recipes / CAKE WITH DRIED FRUIT, BANANA AND GINGER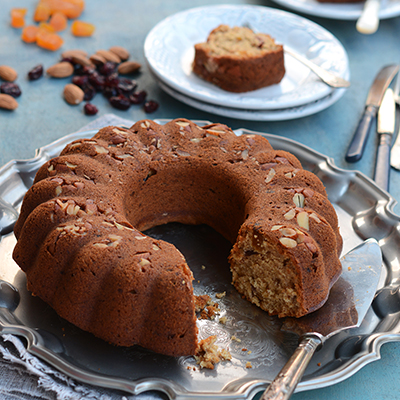 8-10 servings
250 gr flour
10 gr baking powder
1 dessert spoon Green Life Ground Ginger
1 teaspoon Green Life Ground Cinnamon
175 gr butter (at room temperature)
100 gr brown sugar
2 tablespoon honey
3 eggs, whisked
2 ripe bananas
50 gr dried apricot, chopped small
50 gr dried cranberry (or raisin)
50 gr almond, chopped

Sift flour, baking powder, Green Life Ground Cinnamon and Ginger over a large bowl. Add butter, sugar, honey and eggs. Smash the bananas in a bowl with a fork and add the apricot, cranberries and half of the almonds and mix thoroughly. Mix all the ingredients with a mixer or wooden spoon. Grease your cake pan with butter and sprinkle the other half of the almonds in the bottom of the pan. Pour the cake mix into the pan and spread evenly. After baking in a 160 degree preheated oven for 1 hour stick a thin pick into the dough to see if it is cooked. If it is not cooked enough let it bake for 10 more minutes. After removing from the oven let the cake stand for 15 minutes before removing it from the pan. After it has cooled off slice the cake and serve.