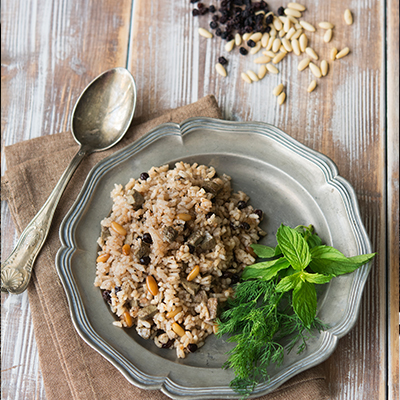 4 servings
2 cups rice
150 gr lamb liver, chopped fine
1 packet Green Life Pine Nuts
2 tablespoon Green Life Currants
1 dessert spoon Green Life Ground Allspice
1 teaspoon Green Life Ground Cinnamon
1 teaspoon Green Life Ground Black Pepper
Oil
Butter
Salt
Heat a tablespoon of butter and 2 tablespoons of cooking oil in a pan. Add the liver and fry. Add the Green Life Pine Nuts and Currants and cook until the nuts are browned. Wash and strain the rice and add to the pot. Add a pinch of salt and fry for another minute. Add Green Life Ground Allspice, Green Life Ground Cinnamon and Black Pepper and stir and pour 3 cups of hot water over the rice. Turn the stove down and cover, cooking until all the water is absorbed. Once the rice has absorbed all the liquid remove it from the stove and let stand for 20 minutes before serving.