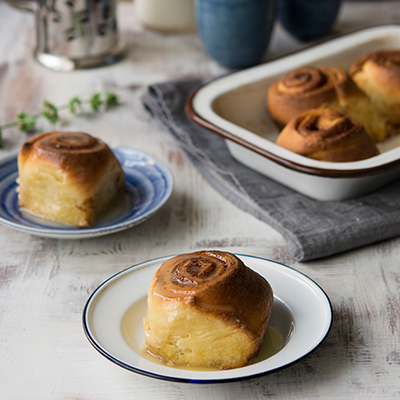 12 pieces
For the Dough
380 gr flour
60 gr butter, melted
50 gr granulated sugar
120 ml milk
1 dessert spoon dry yeast
1 egg yolk
1 dessert spoon vanilla
A pinch of Salt
For the filling
85 gr butter, softened at room temperature
30 gr granulated sugar
1 tablespoon Green Life Ground Cinnamon
For topping
50 gr powdered sugar
60 gr butter, melted
50 gr milk
1 teaspoon vanilla
Pour the flour into a kneading bowl and mix with sugar, making a hollow in the center. Add butter, milk, yeast, egg yolk, vanilla extract and salt and stir. Empty onto the counter and knead to achieve homogenous dough. Place the dough in a bowl greased with butter, cover with saran wrap (clingfilm) and let rise for about 2 hours until the volume doubles. Put the dough on a lightly floured counter and roll out with a rolling pin into a rectangular shape measuring 20 cm x 30 cm. Mix granular sugar and Green Life Ground Cinnamon for the filling. Brush the dough with butter and sprinkle the cinnamon mixture leaving one finger's width of space from the edges. On the gaps that are left spread on water to stick the dough together and roll up the dough. Divide and cut width way into 12 pieces and line up the rolls on a greased baking pan with gaps between them. Cover them with saran wrap and let stand for 1 hour to rise. When the rolls reach twice their volume bake them in a 180°C oven until they are browned, about 25-30 minutes. Remove from the oven and after letting rest for 10 minutes pour the mixture of powdered sugar, melted butter and milk over the rolls. Serve warm.